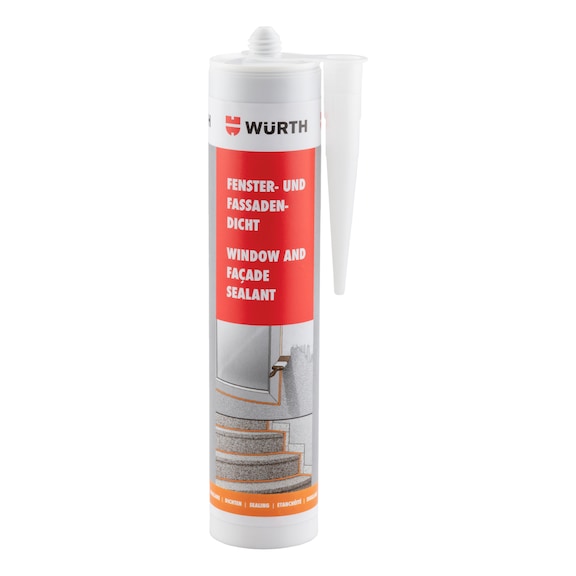 The images are examples. For detailed information, other images and documents, please select individual articles from the following table.
Sealing of connection and expansion joints indoors and outdoors
Exclusively for trade customers
Register now and access more than 125,000 products
Call customer service: +49 7940 15-2400

Exclusively for trade customers
Register now and access more than 125,000 products
Call customer service: +49 7940 15-2400
Prices for customers after login
Almost odourless


Good adhesion even without primer on most surfaces even if damp


Can be painted over


Compatible with natural stone


Permanently elastic once hardened


Non-corrosive, suitable for many alkaline and metallic surfaces


Free of isocyanates, solvents, phthalates, tin and silicone
Notice
The sealant should be painted over within the first 3 days after sufficient skin formation. Subsequent application of paint may cause adhesion problems. Due to the large number of paint systems, preliminary tests are required before painting over. Paints often have a lower elasticity than sealants, which can lead to cracking. Alkyd resin paints can cause drying problems. Risk of yellowing on contact with white alkyd resin paints cannot be excluded. As a general rule, in line with DIN 52452 Part 4, sealants should not be painted over. In the case of particularly sensitive natural stone, such as Jura and Carrara marble, preliminary testing is required. Remove excess smoothing agent from surfaces. Not suitable for use in floor joints for traffic routes. Pre-treat surfaces if necessary.
DIN EN 15651 - 1/4 Sealants for façade elements/pedestrian walkways
EMICODE EC1plus: Very low emissions: The EMICODE classification system distinguishes the environmental and health compatibility of construction products. The lowest-emission products bear the EC1plus mark.
The usage instructions are recommendations based on the tests we have conducted and on our experience; carry out your own tests before each application. Due to the large number of applications and storage and processing conditions, we do not assume any liability for a specific application result. Insofar as our free customer service provides technical information or acts as an advisory service, no responsibility is assumed by this service except where the advice or information given falls within the scope of our specified, contractually agreed service or the advisor was acting deliberately. We guarantee the consistent quality of our products. We reserve the right to make technical changes and further develop products.
Application area
Sealing of connection and movement joints indoors and outdoors (window/door connection), e.g. in the window system, window and façade sealant, external sealing and acrylic paint internal sealing, jointing of natural stones (e.g. granite and marble). For building construction joints (e.g. prefabricated concrete parts). Can be used in wood and metal construction.
Instructions
The joint edges or adhesive surfaces must be solid, load-bearing, clean, dry and free from grease, dust, bitumen and tar. Please observe the "General Notes on Application for Sealants" overview sheet. For more information, please refer to the technical data sheet.
Select RAL-colour code
!! NOTE: On-screen visualisation of the colour differs from real colour shade!!