Window adhesive Ultimate 600 ml pack set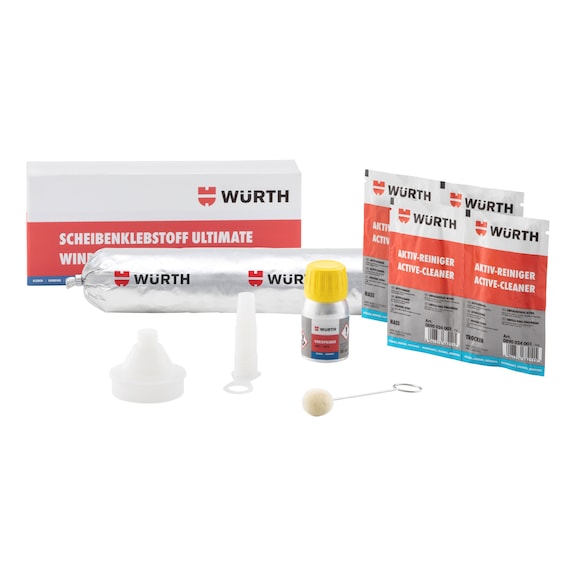 For detailed information, other images and documents, please select individual articles from the following table.
Window adhesive Ultimate 600 ml pack set
High-quality 1-component window adhesive for all types of vehicles that can be used in almost any season
Exclusively for trade customers
Register now and access more than 125,000 products
Call customer service: +49 7940 15-2400
Exclusively for trade customers
Register now and access more than 125,000 products
Call customer service: +49 7940 15-2400
Prices for customers after login
Can be used in almost any season
1-hour drive-away time with airbag at an ambient temperature of -10°C to +35°C


See technical data sheet for drive-away times for larger vehicles
High-modulus
Vehicle-strengthening window adhesive
Suitable for aerials, non-conductive
Prevents contact corrosion
Ideal for use on aluminium, magnesium and hybrid bodywork (e. g. Audi A8, Jaguar XJ etc.)
Safety tested
Drive-away time confirmed with crash test and TÜV certificate in accordance with FMVSS208/212!


Meets requirements of original equipment manufacturers (vehicle manufacturers)
Notice
It is imperative that the Würth active cleaner and Würth Varioprimer are used when preparing surfaces. The products must be checked to ensure that they have not expired before they are used. Apply the adhesive with the gun perpendicular to the frame, starting from the centre of the bottom edge of the window. Do not park the vehicle on a lifting platform. Observe the information regarding bead geometry provided by the vehicle manufacturer. The application and drive-away times must be observed.
The usage instructions are recommendations based on the tests we have conducted and on our experience; carry out your own tests before each application. Due to the large number of applications and storage and processing conditions, we do not assume any liability for a specific application result. Insofar as our free customer service provides technical information or acts as an advisory service, no responsibility is assumed by this service except where the advice or information given falls within the scope of our specified, contractually agreed service or the advisor was acting deliberately. We guarantee the consistent quality of our products. We reserve the right to make technical changes and further develop products.
Application area
600 ml pack particularly suitable for very large windows such as on trucks and buses
Instructions
Ensure that the material is applied in a clean working environment. It is essential to use the product with the accompanying Würth system components to ensure correct and faultless work. The work instructions provided with the product must be followed during application.
A Varioprimer must be applied to freshly painted surfaces. Before applying the primer, the paint must be allowed to harden completely.
Select RAL-colour code
!! NOTE: On-screen visualisation of the colour differs from real colour shade!!