CERAfix® sealing tape 316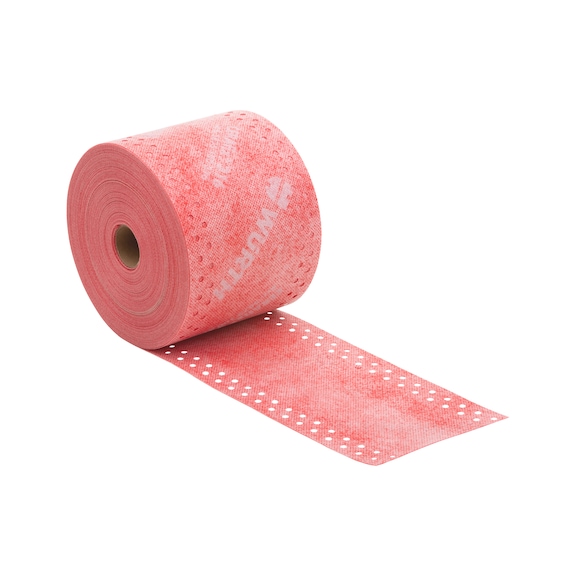 For detailed information, other images and documents, please select individual articles from the following table.
CERAfix® sealing tape 316
Sealing tape for watertight sealing of connection and moving joints.
Exclusively for trade customers
Register now and access more than 125,000 products
Call customer service: +49 7940 15-2400

Exclusively for trade customers
Register now and access more than 125,000 products
Call customer service: +49 7940 15-2400
Prices for customers after login
Permeable to water vapour
Sealing material can dry more quickly
Highly resistant to water pressure
Impermeable to water


Burst pressure >2.0 bar
Flexible and crack-resistant
Extremely low emissions
High resistance
Aqueous thin-bed mortars and sealing materials are guaranteed to be fully dried
CERAfix 316 met the requirements in accordance with the test principles of the Central Federation of the German Building Trade's technical information leaflet "Joint seals", which apply to loads in load classes A, B, C and to the water influence classes W0-I to W3, W1-B and W2-B.
EMICODE EC1plus: Very low emissions: The EMICODE classification system distinguishes the environmental and health compatibility of construction products. The lowest-emission products bear the EC1plus mark.
The above application instructions are recommendations given on the basis of our own tests and experience. We recommend that you carry out your own tests before use. Due to the great variety of different applications and storage and processing conditions, we cannot guarantee a particular application result. We will not accept legal liability for any advice or technical information provided by our free customer hotline unless this advisory service and/or technical information is part of the contractually agreed performance owed by us, or the customer service employee acted willfully or intentionally. We guarantee the consistent quality of our products and reserve the right to make technical changes and improvements.
Application area
For expansion and movement joint sealing as a system with CERAfix 301, CERAfix 302 and CERAfix 315 system balcony film. Is used under tiles and boards in indoor and outdoor applications, e.g. in bathrooms, showers, private and public toilets, as well on terraces, balconies, in swimming pools and around basin perimeters. For further information, please refer to the technical data sheet.
Instructions
Surface:
All usual surfaces that are suitable for taking seals or tile coverings and that have been correctly prepared. The surface must be load-bearing, sufficiently flat in accordance with DIN 18202, free from cracks and free from loose substances. The surfaces must have a largely closed, corresponding surface quality and strength. Smooth concrete surfaces must be roughened. Separating cracks must be assessed by experts and, where necessary, be sealed non-positively with CERAfix 203.
Application:
The sealing tape is fed in where possible in a loop shape via movement joints. Overlap sealing tape joints or connectors for all sealing tape form parts and corners by at least 5 to 10 cm.
Sealing tapes are used for watertight formation of moving and connection joints. CERAfix 301 is applied to both sides of the joint to be bridged so that it is approx. 2 cm wider than the sealing tape; use a 4-6 mm toothed comb to apply. The sealing tape is inserted into the fresh layer and then carefully pressed into the sealing layer with a smooth comb or pressure roller so that there are no cavities or folds. The best possible bedding and connection across the entire surface must be ensured! The strip must be bonded such that it is not possible for CERAfix 316 to be saturated with water from behind. CERAfix 316 is inserted over moving joints in a loop shape. Sealing tape joints have a minimum overlap of 5-10 cm; bond with the sealing material across the whole surface so that there are no folds and rework with the selected sealing material.
With exposure to pressurised water, insert a hydrophobic foam cord and bond/rework a CERAfix 316 sealing tape again with the corresponding sealing material
Select RAL-colour code
!! NOTE: On-screen visualisation of the colour differs from real colour shade!!