SMP adhesive sealant, 2-component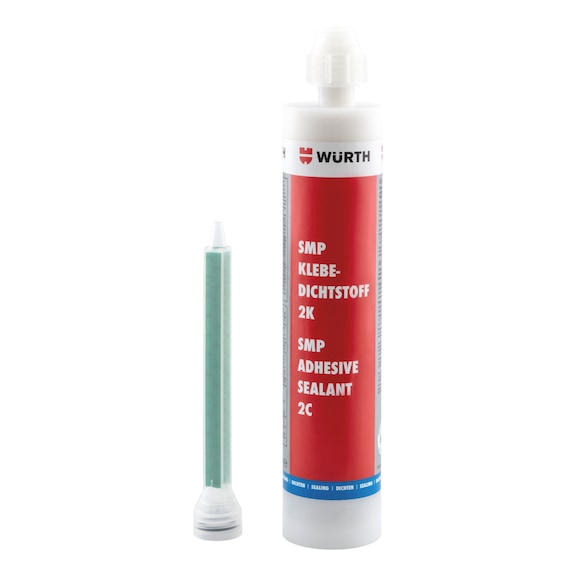 For detailed information, other images and documents, please select individual articles from the following table.
SMP adhesive sealant, 2-component
Fast curing 2-component adhesive sealant for controlled curing regardless of air humidity
Exclusively for trade customers
Register now and access more than 125,000 products
Call customer service: +49 7940 15-2400

Exclusively for trade customers
Register now and access more than 125,000 products
Call customer service: +49 7940 15-2400
Prices for customers after login
Benefits of the 2 components
Very safe due to controlled hardening


Air humidity does not affect the process


Also suitable for large surfaces
Versatile applications and adheres to a wide variety of materials
Good adhesion properties on a variety of surfaces


Compensates for expansions in different materials


Very strong elastic adhesive joints


Not corrosive to metals


Compatible with natural stone


Non-foaming


UV and weather-resistant


Limited chlorine resistance around swimming pools
Max. short-term temperature resistance +200°C
Suitable for subsequent powder coating
Easy to smooth
Can be sanded and painted over once cured
Solvent and silicone-free
Notice
Application times are reduced to around half the time at +30°C and extend to around double the time at +10°C.


The bonded workpieces should not be coated until after the adhesive is fully hardened; if they are coated too early, the formation of bubbles in the coating cannot be ruled out.


The long-term behaviour of bonds between materials with different linear expansion rates must be evaluated, in particular when placed under load in areas with variable temperatures
Bonding metals
No general statement can be made concerning the wettability or bonding ability of anodised surfaces due to the variety, age and potential additional treatments on these adhesive surfaces, such as oils or waxes.


Due to aluminium surfaces and properties being difficult to define, we always recommend that you obtain sufficient information from the supplier to enable you to choose the optimum pre-treatments for your particular bonding application. Sufficient preliminary tests are necessary.


In the production and processing of stainless steel, auxiliary materials such as wax, oils, etc. are frequently used. These materials cannot be simply wiped clean. It has been shown that cleaning with the universal cleaner type 60 (art. no. 0892 130 030, 0892 130 031), grinding or (preferably), sandblasting the surface, followed by repeated cleaning delivers considerably better bonding results.


In principle, zinc-plated sheet metal must always be protected against ongoing ingress of moisture and standing water to prevent "white rust formation". This includes preventing any moisture that arises from coming into contact with the bonding surface


When bonding metals to absorbent materials (e.g. wood, construction materials, etc.), the moisture can be slowly transported through the bonding gap by the absorbent material onto the metal surface, where it can cause corrosion damage to the metal. The metallic bonding surface must therefore have suitable corrosion protection, e.g. paint or powder coating!


Will not reliably adhere to powder coatings that contain PTFE without pre-treatment (e.g. plasma treatment)
GEV: Classified as EMICODE class EC2 in accordance with GEV criteria


ILAK, Institut für Lackprüfung: Salt spray test in accordance with DIN EN ISO 9227
Test report no.: 9-5-18/4
The usage instructions are recommendations based on the tests we have conducted and on our experience; carry out your own tests before each application. Due to the large number of applications and storage and processing conditions, we do not assume any liability for a specific application result. Insofar as our free customer service provides technical information or acts as an advisory service, no liability is assumed in relation to the provision of this service except where the advice or information given falls within the scope of our specified, contractually agreed service or the advisor was acting deliberately. We guarantee the consistent quality of our products. We reserve the right to make technical changes and further develop products. Please refer to the technical data sheet.
Application area
Fast curing and ideal for full-surface bonding — high degree of safety due to controlled curing.
Suitable for bonding and sealing in vehicle, wagon and container construction, for vehicle structures, the building trade, stair construction, bonding of façades, (cassette) sandwich elements, glass bonding in furniture and display case construction, leaf-enclosing door infills, assembly connections, skirting boards, laminate laying, cable ducts, solar and wind energy systems, sign attachment, equipment and plant construction, as well as in various industrial sectors.
Instructions
The application surfaces must be clean, dry and free of grease. For pre-treatment, please refer to the optimisation table in the technical data sheet.
The static mixing tube is screwed onto the opened cartridge and the cartridge is inserted into the cartridge gun 24:1.
Do not use the first 20 g of mixed adhesive for safety reasons.
Then apply the adhesive to one of the two components within the processing time, join the components and fix/press evenly until functional strength is achieved.
After approx. 3.5 hours, you will have achieved a good level of functionality and can continue to use the workpiece.
For more information, please refer to the technical data sheet.
Select RAL-colour code
!! NOTE: On-screen visualisation of the colour differs from real colour shade!!