Packaging film Pre-stretched Packfix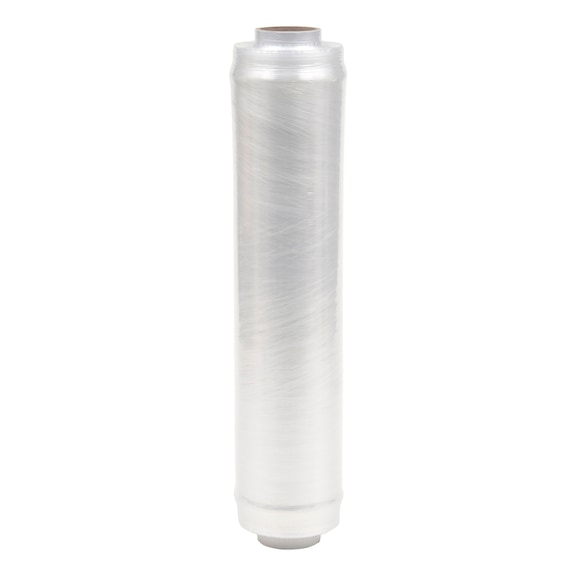 For detailed information, other images and documents, please select individual articles from the following table.
Packaging film Pre-stretched Packfix
For optimum securing of load units with low consumption
Exclusively for trade customers
Register now and access more than 125,000 products
Call customer service: +49 7940 15-2400


Exclusively for trade customers
Register now and access more than 125,000 products
Call customer service: +49 7940 15-2400
Prices for customers after login
Film already pre-stretched due to special production process
50–60% less consumption and therefore extremely environmentally friendly and resource-sparing


Easy to handle due to light roll weight


No laborious pre-stretching of the film required
Reduced slipping of the goods on the pallet
Excellent securing of load units thanks to higher holding power.
Doubled edges prevent tearing and provide additional safety
The usage instructions are recommendations based on the tests we have conducted and our experience; carry out your own tests before each application. Due to the large number of applications and storage and processing conditions, we do not assume any liability for a specific application result. Insofar as our free customer service provides technical information or acts as an advisory service, no responsibility is assumed by this service except where the advice or information given falls within the scope of our specified, contractually agreed service or the advisor was acting deliberately. We guarantee the consistent quality of our products. We reserve the right to make technical changes and further develop products.
Application area
For packing, bundling, protecting, securing, safeguarding load units and as moisture and theft protection. Universal usage for a wide variety of packaging goods such as packages, pallets, wood and plastic profiles, carpet rolls, picture frames, other long goods etc. Packfix, pre-stretched, has also proven its worth in relocation applications such as for sealing cartons, protecting furniture pieces and securing drawers against opening.
Instructions
Please refer to the technical data sheet for information on correct application.
Pre-stretched Packfix is only applied tightly to cargo, allowing for very easy wrapping with forwards motion. This also reduces the risk of accidents. When securing pallets with Packfix for load units, it is essential to pay attention to the foot windings. A good connection between the load carrier and packing material is essential for good load unit securing.
Select RAL-colour code
!! NOTE: On-screen visualisation of the colour differs from real colour shade!!