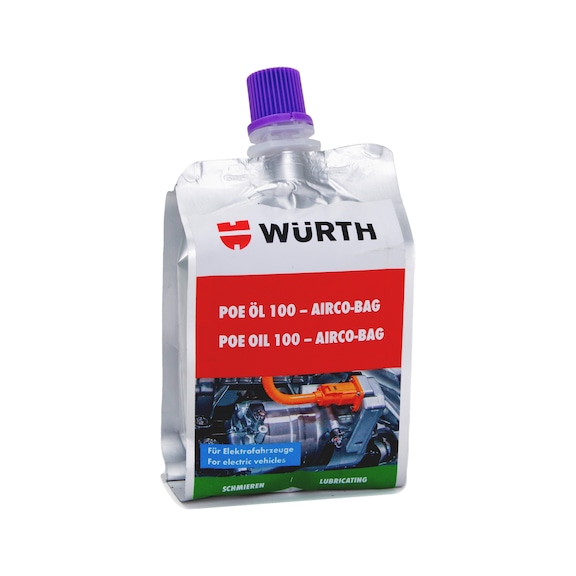 For detailed information, other images and documents, please select individual articles from the following table.
POE oil in a hermetically sealed container
Exclusively for trade customers
Register now and access more than 125,000 products
Call customer service: +49 7940 15-2400
Exclusively for trade customers
Register now and access more than 125,000 products
Call customer service: +49 7940 15-2400
Prices for customers after login
Special POE (polyolester) air-conditioner compressor oil for lubricating vehicle air conditioning systems with electric air-conditioning compressors (hybrid and electric vehicles).
Excellent resistance to potential electric leakage current in high-voltage air-conditioning systems
Hermetically sealed Airco-Bag container


Compatible with both R1234yf and R134a refrigerants and highly miscible.


Very hydrophobic


Not conductive


Electrical components are not affected
Improves lubricity, provides chemical and thermal stability and guarantees excellent wear protection.
Notice
Do not mix with other air-conditioning compressor oils. Store so the oil is protected from moisture. Avoid storing in open containers.
The usage instructions are recommendations based on the tests we have conducted and on our experience; carry out your own tests before each application. Due to the large number of applications and storage and processing conditions, we do not assume any liability for a specific application result. Insofar as our free customer service provides technical information or acts as an advisory service, no responsibility is assumed by this service except where the advice or information given falls within the scope of our specified, contractually agreed service or the advisor was acting with deliberate intent. We guarantee the consistent quality of our products. We reserve the right to make technical changes and further develop products. Please observe the technical data sheet!
Application area
For maintaining, lubricating and cooling vehicle electric air-conditioning compressors as well as sliding and rotating parts in the R134a and R1234yf air-conditioning circuit.
Instructions
Top up low compressor oil according to the amount used or to the amount recommended by the vehicle manufacturer and add to the air-conditioning circuit via the air-conditioning service unit.
Select RAL-colour code
!! NOTE: On-screen visualisation of the colour differs from real colour shade!!