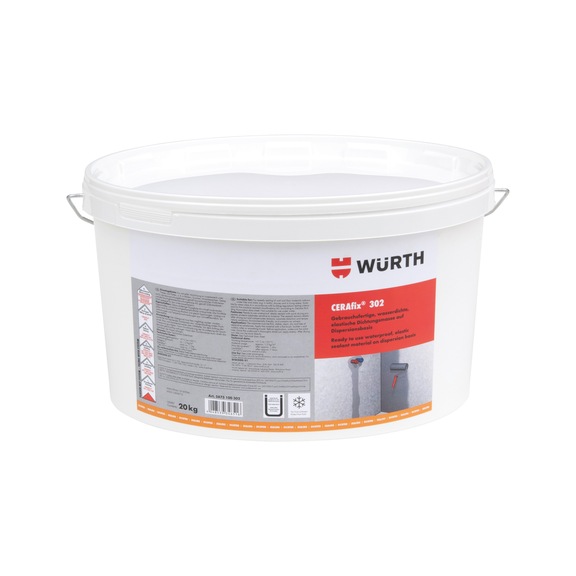 For detailed information, other images and documents, please select individual articles from the following table.
Watertight, elastic, polymer dispersion-based sealing compound
Exclusively for trade customers
Register now and access more than 125,000 products
Call customer service: +49 7940 15-2400



Exclusively for trade customers
Register now and access more than 125,000 products
Call customer service: +49 7940 15-2400
Prices for customers after login
Certified quality
General test certificate from construction authorities


Classification of reaction to fire in accordance with DIN EN 13501-1 and EN ISO 11925-2
Ready to use
Can be used directly from the container


No mixing required


Fast application
Particularly high degree of flexibility
Great at bridging cracks


Secure even on surfaces subject to cracking and considerable movement
Quick drying time
Quick to build up layers, e.g. with subsequent sealing and laying work


Reduces downtimes
Vapour-permeable
Ideal for slightly damp surfaces
Solvent-free
Can be painted, rolled or filled
Notice
Do not allow water to make contact with surface until fully hardened! Not suitable for underwater applications.
EMICODE EC1plus: Very low emission – the EMICODE classification system characterises the environmental and health compatibility of construction products. The lowest-emission products bear the EC1plus mark.
The usage instructions are recommendations based on the tests we have conducted and on our experience; carry out your own tests before each application. Due to the large number of applications and storage and processing conditions, we do not assume any liability for a specific application result. Insofar as our free customer service provides technical information or acts as an advisory service, no responsibility is assumed by this service except where the advice or information given falls within the scope of our specified, contractually agreed service or the advisor was acting deliberately. We guarantee the consistent quality of our products. We reserve the right to make technical changes and further develop products. For further information, please refer to the technical data sheet.
Application area
For quick, seamless sealing under tiles and panels in indoor applications, e.g. in bathrooms, showers, living areas. CERAfix 302 is suitable for sealing in the composite for water impact classes WO-I, W1-1 and on wall surfaces of water impact class W2-I according to DIN 18534 Part 3 according to the German Building Trade (ZDB) technical information leaflet "Compound sealing".
Instructions
The surface must be solid, load-bearing, clean, dry and free from separating substances. The material is applied with a brush or a roller. Before application, prime the surface with CERAfix 101, art. no. 5875100101. Apply an even layer of CERAfix 302 once the primer has dried. Reinforce the elastic surface seal by applying Würth CERAfix 310, art. no. 5875100310, in the wall/floor joint area. The tiles can be adhered directly to the CERAfix 302 once fully dried.
Select RAL-colour code
!! NOTE: On-screen visualisation of the colour differs from real colour shade!!