Fuel canister, steel, 20 litres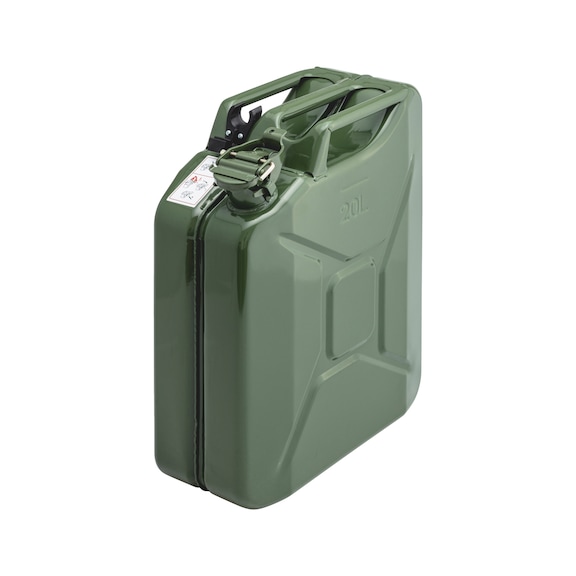 For detailed information, other images and documents, please select individual articles from the following table.
Fuel canister, steel, 20 litres
Fuel canisters for transporting petrol and diesel
Exclusively for trade customers
Register now and access more than 125,000 products
Call customer service: +49 7940 15-2400


Exclusively for trade customers
Register now and access more than 125,000 products
Call customer service: +49 7940 15-2400
Prices for customers after login
For refuelling vehicles and fuel-powered machinery
TUV type-tested label, safety and regular production monitoring


Wall thickness 0.9 mm in accordance with to DIN 7274


Highly resistant external powder coating


Fuel-resistant inner coating ensures long-lasting corrosion protection


Wide ventilation duct (drains in less than 25 seconds without spout)


Welded tape seams on the handles ensure high level of stability


Quick-action closure — completely leak-proof regardless of the angle of the canister, with locking pin
Notice
Caution: Check the cap for leakage after each refilling or before transport!


Please observe the prescribed labelling for transporting the fuel canister. See notes


The seal in the canister cap is a wear part and must be replaced from time to time.
Seals can be found in art. no. 0891420744 in PU 5.
When transporting canisters containing fuel, follow the provisions of the GHS and ADR regulations where necessary, and attach the legally required labelling to the canister.
Our safety adhesive labels can be used for this; see art. no. 0891420740.
Caution: Spout and retaining clip are not included in the scope of delivery. Please order spout separately. A retaining clip is included with each spout.
The usage instructions are recommendations based on the tests we have conducted and our experience; carry out your own tests before each application. Due to the large number of applications and storage and processing conditions, we do not assume any liability for a specific application result. Insofar as our free customer service provides technical information or acts as an advisory service, no responsibility is assumed by this service except where the advice or information given falls within the scope of our specified, contractually agreed service or the advisor was acting deliberately. We guarantee the consistent quality of our products. We reserve the right to make technical changes and further develop products.
Application area
UN-approved fuel canister for the safe transport of specific dangerous goods, e.g. fuel and oil for construction machinery and small vehicles, etc.
Instructions
The fuel may contain foreign bodies and dirt. Always use a fuel filter when refuelling to prevent these substances from entering the tank. We recommend using only the Würth flexible fuel spout as an accessory. Würth fuel spouts are equipped with a built-in strainer and reliably catch critical foreign bodies and contaminants.
The spout for petrol can be found under art. no. 0891420741 and for diesel under art. no. 0891420742. The spout can be easily clipped onto the canister for transport. There are dedicated holes on the canister for the retaining clip supplied with the spout.
Select RAL-colour code
!! NOTE: On-screen visualisation of the colour differs from real colour shade!!