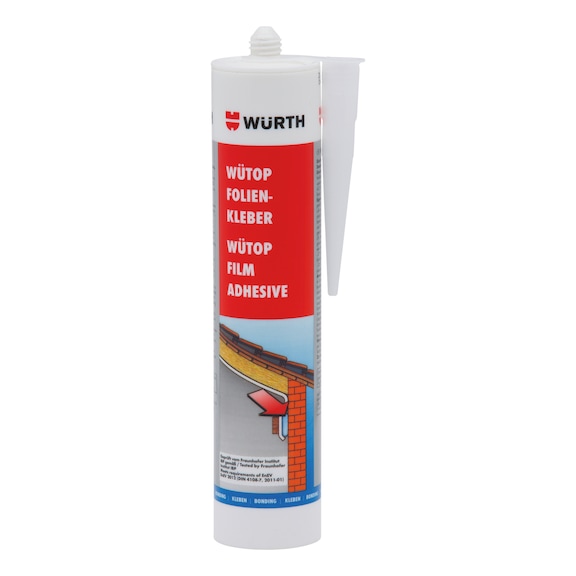 The images are examples. For detailed information, other images and documents, please select individual articles from the following table.
Tested system adhesive for permanent sealing of vapour retarders/barriers indoors without a clamping batten in accordance with DIN 4108-7/SIA 180
Exclusively for trade customers
Register now and access more than 125,000 products
Call customer service: +49 7940 15-2400

Exclusively for trade customers
Register now and access more than 125,000 products
Call customer service: +49 7940 15-2400
Prices for customers after login
Approved tightness of 600 Pa pressure difference
Air and wind tightness tests performed by the Institute for Building Physics in Stuttgart in combination with WÜRTH vapour retarders/barriers are available.
Odourless
No foul-smelling vapours. Odourless and physiologically harmless once hardened.
Highly adhesive and flexible
Permanently joins vapour retarders/ barriers to construction-related dry surfaces and is permanently elastic for absorbing movement.
Broad adhesive range
For bonding a wide range of vapour retarders/barriers on all common building joints
Can be used across a wide range of temperatures
Can also be applied at external and surface temperatures down to -5°C . Adhesive temperature from +10°C.
Resistant to UV radiation, weathering and ageing


Silicone-free


Stable


Resistant to freezing down to -30°C


Contains no formaldehyde, chlorine or heavy metals


High degree of moistening properties, even on uneven surfaces


Can also be used for reinforced papers and fleeces
Notice
Detached bonds can be joined together once again due to the self-adhesive properties of the adhesive film.


When working at temperatures below +15°C, you are advised to work with professional glue gun art. no.: 0891 300 310.


The hardened WÜTOP® adhesive film is largely highly water resistant, however you should avoid working with it in places where humidity levels are always high, e.g. swimming pools or other wet areas.
German Energy Saving Ordinance (EnEV)
The usage instructions are recommendations based on the tests we have conducted and are based on our experience; carry out your own tests before each application. Due to the large number of applications and storage and processing conditions, we do not assume any liability for a specific application result. Insofar as our free customer service provides technical information or acts as an advisory service, no responsibility is assumed by this service except where the advice or information given falls within the scope of our specified, contractually agreed service or the advisor was acting deliberately. We guarantee consistent quality of our products. We reserve the right to make technical changes and carry out further development.
Application area
For bonding of all Würth vapour retarders and vapour barriers as well as sealing films on construction surfaces. Please observe the relevant laying instructions for Wütop vapour retarders!
Instructions
The application surfaces must be clean, dry and free of grease. For pre-treatment, refer to the technical data sheet.
Apply the adhesive in 4–8 mm beads to the film or connector. After applying the beads of adhesive, place the film free of strain (using discharge loop for strain relief), press lightly to fix in place (do not press bead flat, bead should retain thickness of ≥1 mm).
Alternatively, depending on the level of dampness of the building material, the bonding process takes place after the adhesive has been left to dry for a certain amount of time (16 to 20 hours). Bonding to non-absorbent surfaces is done using the contact bonding method.
Select RAL-colour code
!! NOTE: On-screen visualisation of the colour differs from real colour shade!!