Adhesive sealant PU Marine Power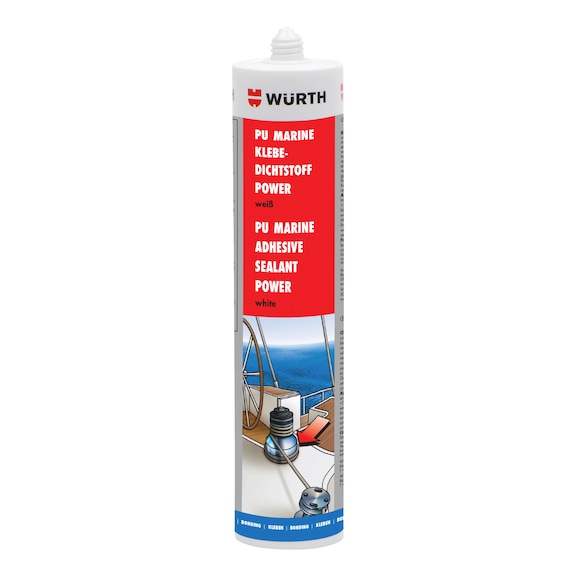 For detailed information, other images and documents, please select individual articles from the following table.
Adhesive sealant PU Marine Power
Versatile, elastic one-component polyurethane adhesive for marine applications or caravan construction
Exclusively for trade customers
Register now and access more than 125,000 products
Call customer service: +49 7940 15-2400

Exclusively for trade customers
Register now and access more than 125,000 products
Call customer service: +49 7940 15-2400
Prices for customers after login
Flame-retardant
Broad adhesive range
Excellent adhesion on a wide range of materials
Elastic
Different material expansions are compensated for by high elasticity


Dampens vibrations and noise
Slow skin formation time
Allows large components to be bonded and sealed


Joint parts can be repositioned
Can be sanded and painted over
Mechanical processing is possible once the skin forms


The sealant can be painted over, subject to restrictions
Effective resistance to chemicals, ageing and weathering
Lasting resistance to water, salt water, diluted acids and alkalines


Resistant short-term to fuels, mineral oils, vegetable and animal fats and oils
Low-odour
Silicone-free
Notice
Do not allow this product to come into contact with alkyd-resin paint systems. When painting over the sealant, it must be taken into account that the thickness and hardness of the paint film may impair the adhesive's elasticity and thereby cause cracks.
EC type examination certificate: Approved for bonding in shipbuilding and boat building.
The usage instructions are recommendations based on the tests we have conducted and on our experience; carry out your own tests before each application. Due to the large number of applications and storage and processing conditions, we do not assume any liability for a specific application result. Insofar as our free customer service provides technical information or acts as an advisory service, no responsibility is assumed by the provision of this service except where the advice or information given falls within the scope of our specified, contractually agreed service or the advisor was acting deliberately. We guarantee the consistent quality of our products. We reserve the right to make technical changes and further develop products. Please observe the technical data sheet!
Application area
One-component polyurethane adhesive specially developed for use in boat and shipbuilding.
Suitable for bonding various permanently loaded materials. For use on the deck, hull and keel. In the installation of structures, walls, vertically fitted panels, the railing etc.
Instructions
The application surfaces must be clean, dry and free of grease. For pre-treatment, refer to the technical data sheet.
Cut off thread cap, screw on nozzle and cut to the required width. Apply the adhesive using a suitable application gun.
The adhesive must be smoothed during the skin-formation time.
Select RAL-colour code
!! NOTE: On-screen visualisation of the colour differs from real colour shade!!