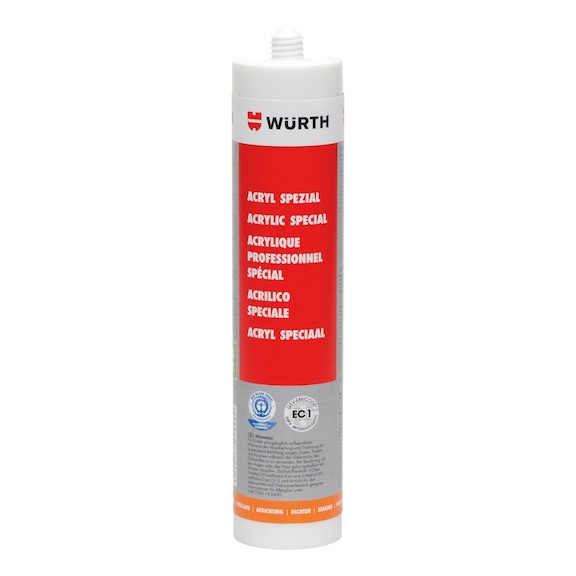 For detailed information, other images and documents, please select individual articles from the following table.
Special acrylic sealant that minimises formation of cracks and discolouration of emulsion paints at the joint
Exclusively for trade customers
Register now and access more than 125,000 products
Call customer service: +49 7940 15-2400


Exclusively for trade customers
Register now and access more than 125,000 products
Call customer service: +49 7940 15-2400
Prices for customers after login
Can be plastered/painted over with high-quality emulsion paints in just a few hours


Minimises the risk of crack formation and discolouration of the applied emulsion paint


Age, weather and UV-resistant


Plastoelastic


Silicone-free, solvent-free and phthalate-free
Notice
The setting speed depends on the processing temperature, the weather conditions and the surface moisture. The speed is greatly delayed in cold, damp weather. The joint must be protected at least 5 hours before rain. Not suitable for PE, PP, PMMA, PTFE, neoprene and bitumen substrates.
Tested in accordance with EN 15651 Part 1
Fire behaviour: Class E


Release of chemicals hazardous to health and/or the environment: See safety data sheet


Stability under load: ≤ 3 mm


Volume loss: ≤ 25%


Adhesion and expansion under pre-stress after being immersed in water: ≥ 25%


Durability: Passed
EMICODE EC1plus: Very low emissions: The EMICODE classification system distinguishes the environmental and health compatibility of construction products. The lowest-emission products bear the EC1plus mark.
The usage instructions are recommendations based on the tests we have conducted and our experience; carry out your own tests before each application. Due to the large number of applications and storage and processing conditions, we do not assume any liability for a specific application result. Insofar as our free customer service provides technical information or acts as an advisory service, no responsibility is assumed by this service except where the advice or information given falls within the scope of our specified, contractually agreed service or the advisor was acting deliberately. We guarantee consistent quality of our products. We reserve the right to make technical changes and further develop products.
Application area
Special acrylic sealant for interior and exterior joints. The acrylic sealant shows good adhesion properties on typical substrates. However, we recommend a primer for absorbent and porous surfaces (acrylic to water ratio 1:3 to 1:5). Where possible, fill the joints with a PE backfill material to prevent adhesion on three edges.
Select RAL-colour code
!! NOTE: On-screen visualisation of the colour differs from real colour shade!!