Methyl methacrylate adhesive MAK 38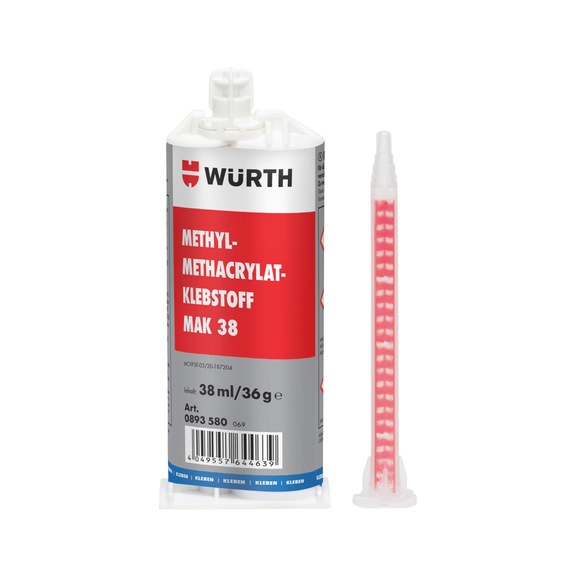 The images are examples. For detailed information, other images and documents, please select individual articles from the following table.
Methyl methacrylate adhesive MAK 38
2-component structural adhesive for bonding metal, composite materials and various plastics to each other
Exclusively for trade customers
Register now and access more than 125,000 products
Call customer service: +49 7940 15-2400
Exclusively for trade customers
Register now and access more than 125,000 products
Call customer service: +49 7940 15-2400
Prices for customers after login
Adheres to a wide variety of materials
Bonds a wide range of surfaces
Primers are not required for many metal surfaces
Possible to bond metals quickly, as pre-treatment is not required.
High strength
Excellent resistance to material fatigue and impacts.
Excellent resistance to media
Resistant to water, moisture, petrol, diesel and engine oil.
High thermal stability
Long-lasting secure hold in a variety of applications up to +125°C


High temperature resistance up to +230°C for short periods, suitable for powder coatings
Gap bridging up to 15 mm
Silicone- and solvent-free
Notice
Not suitable for permanent use in highly concentrated acids and bases or aggressive organic solutions, such as toluene, ketones and esters.


PMMA must only be glued when it is not under tension; otherwise, stress cracks are likely to occur


Protect from frost.
ISEGA:
Can be used in food-related areas, e.g. for bonding components made of plastic and metals in areas where food is processed or stored. Components manufactured with the adhesive may be used in direct contact with food, as far as the adhesive is concerned, as long as it has hardened sufficiently. Clearance certificate no.: 46630 U18
The usage instructions are recommendations based on the tests we have conducted and on our experience; carry out your own tests before each application. Due to the large number of applications and storage and processing conditions, we do not assume any liability for a specific application result. Insofar as our free customer service provides technical information or acts as an advisory service, no responsibility is assumed by this service except where the advice or information given falls within the scope of our specified, contractually agreed service or the advisor was acting deliberately. We guarantee the consistent quality of our products. We reserve the right to make technical changes and further develop products. Please observe the technical data sheet!
Application area
This adhesive is especially recommended for applications exposed to high dynamic, thermal or climatic loads. Thanks to its flexibility, it can also be used to bond materials with different thermal expansion coefficients. Ideal for automotive components, electrical components, household appliances, metal manufacturing, plastic tanks, plastic and composite manufacturing, signs and displays, thermoform housings, applications in the pharmaceutical, beverage and food industries in compliance with ISEGA certificate; when cured, it is also safe for the bonded components to come into direct contact with food.
Instructions
The substrates must be clean, dry, and grease-free. Attach the static mixing tube to the opened adhesive cartridge and insert the cartridge into the respective dosing gun.
Discard the first 2 cm of mixed adhesive.
Apply sufficient adhesive to the surfaces to be bonded, ensuring that there is a minimum gap of 1mm when subsequently pressing the parts. Pressing time is approx. 10 min.
For more information, please refer to the technical data sheet.
Select RAL-colour code
!! NOTE: On-screen visualisation of the colour differs from real colour shade!!