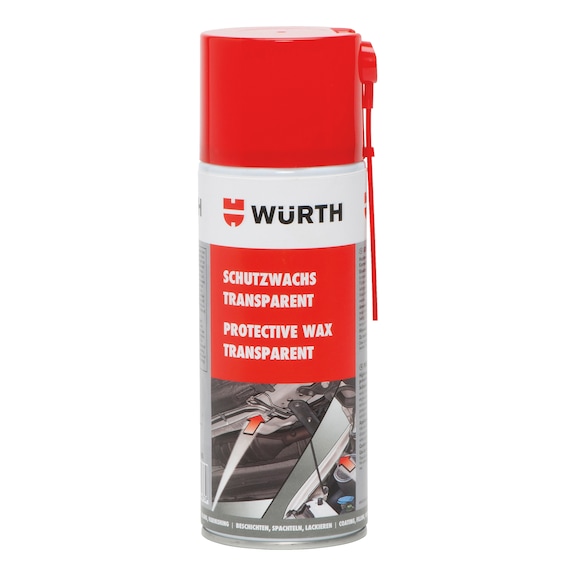 Protective wax spray, 360 degree nozzle
PROTWAX-TRANSPARENT-400ML
-,-- | Individual prices for customers after login
Show availability in Würth trade store
If you have any questions, please call our service hotline at +49 7940 15-2400.
You are not yet a Würth customer or do not yet have access data to the Online Shop? Then
register now
in just a few steps. After a successful check of the entered data, you will have immediate access to the stock inquiry as well as all prices and can immediately order.
Exclusively for trade customers
Register now and access more than 125,000 products
Call customer service: +49 7940 15-2400
Highly transparent wax anti-corrosive agent that displaces water
Can also be used overhead
360° valve
Heat-resistant
Temperature resistant up to +160°C
Reliable
Has self-healing properties


Adhesive


Water-repellent
Transparent
Protected area remains visible
Protective film has self-healing properties
Odourless
Notice
Not suitable for use on visible painted surfaces
The usage instructions are recommendations based on the tests we have conducted and based on our experience; carry out your own tests before each application. Due to the large number of applications and storage and processing conditions, we do not assume any liability for a specific application result. Insofar as our free customer service provides technical information or acts as an advisory service, no responsibility is assumed by this service except where the advice or information given falls within the scope of our specified, contractually agreed service or the advisor was acting deliberately. We guarantee consistent quality of our products. We reserve the right to make technical changes and further develop products.
Product information
Würth Catalogue(X)
Catalogue page as PDF 1
Certificates/ Documents

Application area
For preserving internal parts. Particularly on seams, joints and surfaces in the engine compartment and luggage compartment, on doors, sill panel trims, brake lines etc.


Can also be used as anti-corrosive agent for machines, machine parts and equipment when they are stored outdoors
Instructions
Shake can well before use. The surface must be dry and free from rust, dirt and grease. The optimum spraying distance is 30 cm. The best spraying results are achieved at a processing temperature of +15° - 25°C.
| | |
| --- | --- |
| Contents | 400 ml |
| Colour | Transparent |
| Min./max. skin-formation time | 90-120 min |
| Conditions for skin-formation time | at 20°C |
| Design | 360 ° valve |
| Min. temperature resistance | -25 °C |
| Max. temperature resistance | 160 °C |
| Min. spraying distance | 30 cm |
| Min. processing temperature | 15 °C |
| Max. processing temperature | -25 °C |
| Density | 0.665 g/cm³ |
| Density conditions | at 20°C |
Art.-no.

Plus disposal costs -,-- per selected packing unit
Cust. Mat. No.
Certificates/ Documents