Ventilation duct sealant Hybrid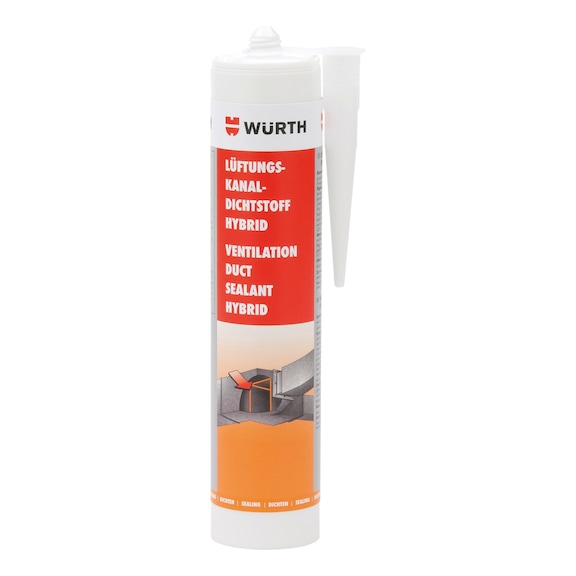 For detailed information, other images and documents, please select individual articles from the following table.
Ventilation duct sealant Hybrid
Ready-to-use, hybrid polymer-based single-component sealant
Exclusively for trade customers
Register now and access more than 125,000 products
Call customer service: +49 7940 15-2400
Exclusively for trade customers
Register now and access more than 125,000 products
Call customer service: +49 7940 15-2400
Prices for customers after login
Quick to harden
Quick drying saves time
Metal surface appearance
Ideal for use on visible metal surfaces
Quick and simple to use
Can be used, without degreasing, on lightly oiled, corrosion-preserved plain and galvanised steel, stainless steel and aluminium sheets. Cleaning the surface is nevertheless recommended to aid optimum adhesion.
Silicone-free, UV-resistant, age-resistant and weather-resistant


Does not contain any substances that impair paint adhesion


No primer required


Short-term temperature resistance max. +100°C to max. 1 h
Notice
Please refer to the "General processing instructions for sealants" overview sheet. The sealant must not be permanently submerged in liquid medium. The persistent accumulation of fluid substances above the joint must be prevented in the system construction.
The usage instructions are recommendations based on the tests we have conducted and our experience; carry out your own tests before each application. Due to the large number of applications and storage and processing conditions, we do not assume any liability for a specific application result. Insofar as our free customer service provides technical information or acts as an advisory service, no responsibility is assumed by this service except where the advice or information given falls within the scope of our specified, contractually agreed service or the advisor was acting deliberately. We guarantee consistent quality of our products. We reserve the right to make technical changes and further develop products.
Application area
Sealant for sealing movement and component joints in air-conditioning systems and ventilation ducts. Sealant for sound insulation of sheet metal connections, sealing of air recirculation ducts of air conditioning systems and exhaust air systems in commercial kitchens.
Instructions
The base material must be clean, dry and free of grease. For more information, please refer to the technical data sheet.
Select RAL-colour code
!! NOTE: On-screen visualisation of the colour differs from real colour shade!!