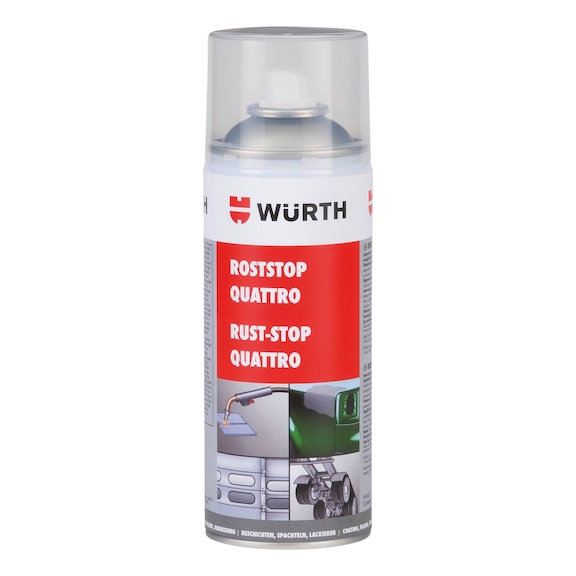 For detailed information, other images and documents, please select individual articles from the following table.
Fast-drying universal primer with a broad range of applications
Exclusively for trade customers
Register now and access more than 125,000 products
Call customer service: +49 7940 15-2400
Exclusively for trade customers
Register now and access more than 125,000 products
Call customer service: +49 7940 15-2400
Prices for customers after login
Unique combination of primer, adhesion promoter, corrosion protection and welding primer in a single product
Primer reliably prevents further rusting with anti-oxidation formula.
Adhesion agent
Good application surface structure for further painting work


Suitable for use in conjunction with PU and MS polymer sealing compounds
Corrosion protection
Excellent, long-term protection against oxidation


Outstanding resistance to spray water and salt water
Welding substrate, full penetration welding possible wet and dry
Very high temperature resistance up to 300°C, briefly up to 500°C
VOC-compliant
Lower solvent content


Complies with the maximum VOC content specified in the VOC Directive (1999/13/EC)
Notice
Turn the can upside down and spray until the valve is empty after use.
The usage instructions are recommendations based on the tests we have conducted and our experience; carry out your own tests before each application. Due to the large number of applications and storage and processing conditions, we do not assume any liability for a specific application result. Insofar as our free customer service provides technical information or acts as an advisory service, no responsibility is assumed by this service except where the advice or information given falls within the scope of our specified, contractually agreed service or the advisor was acting deliberately. We guarantee consistent quality of our products. We reserve the right to make technical changes and further develop products.
Application area
Freight forwarding companies, transport companies, commercial vehicle repair workshops, vehicle construction, building trade, concrete mixing plants, agriculture, forestry, local authorities etc.
Instructions
The surface must be clean, dry and free from grease. Lightly sand problematic surfaces. Shake can well before use. Apply a thin coat for the first spray coating. Observe the flash-off time. Can be painted after approx. 20 minutes with all commercially available 1-component, 2-component and water-based top-coat paint systems.
Select RAL-colour code
!! NOTE: On-screen visualisation of the colour differs from real colour shade!!