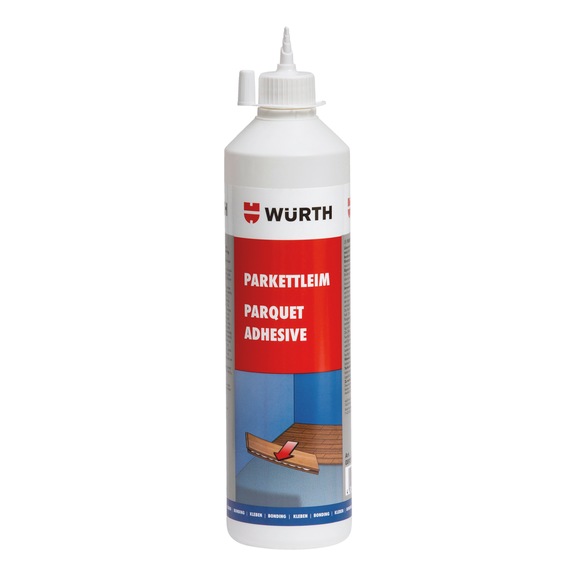 For detailed information, other images and documents, please select individual articles from the following table.
Single-component dispersion glue for bonding parquet/laminate for floating installation.
Exclusively for trade customers
Register now and access more than 125,000 products
Call customer service: +49 7940 15-2400
Exclusively for trade customers
Register now and access more than 125,000 products
Call customer service: +49 7940 15-2400
Prices for customers after login
High water resistance
Tested D3 quality in accordance with EN 204. Tested by the Institut für Fenstertechnik e.V. (German Institute for Window Technology) in Rosenheim.
Special bottle and cap shape
Can be cut off at various widths, reclosable wide-slit nozzle


Ergonomic bottle shape


Easy to apply
Fast-setting
Fast setting speed with high water and maximum adhesion
Transparent hardening
No visible adhesive joints


Hardened glued joints are viscoelastic
Solvent-free
The usage instructions are recommendations based on the tests we have conducted and our experience; carry out your own tests before each application. Due to the large number of applications and storage and processing conditions, we do not assume any liability for a specific application result. Insofar as our free customer service provides technical information or acts as an advisory service, no responsibility is assumed by this service except where the advice or information given falls within the scope of our specified, contractually agreed service or the advisor was acting deliberately. We guarantee consistent quality of our products. We reserve the right to make technical changes and further develop products.
Application area
Indoors with frequent short-term exposure to flowing water or condensation water
Bonding of tongue and groove for ready-to-lay parquet, e.g. strip flooring, country-house deal flooring, linoleum flooring and ready-to-lay cork parquet deals


Bonding of tongue and groove for laminated floors


Bonding of particle boards and other wooden materials


Assembly, surface, floorboard and block gluing


Soft, hard, exotic woods
Instructions
In accordance with the manufacturer's installation instructions for the covering, apply an even coat of adhesive to the tongue or groove lengthwise and on the face end. However, we recommend applying glue to the upper side of the groove and the underside of the tongue to ensure complete wetting with glue.


The surface must be dry and free from dust, grease or other repellent substances. The moisture values of parquet, air and screed must be checked before applying the parquet glue and adjusted in accordance with the product information. The tongue and grove should be joined within a maximum of 10 minutes. Final strength is achieved after approx. 48 hours. Underfloor heating may not be operated during laying and during the drying time. Observe the parquet manufacturer's processing instructions.


In conjunction with the tannic acid in the wood, the impact of bare metal may result in blue discolouration, especially with oak, and in red discolouration with beech. In isolated cases, substances contained in wood may result in unpredictable discolouration with various types of wood, e.g. beech, cherry, maple


It is not possible to bond parquet/laminate to the subfloor


Fresh splashes of glue can be removed with water. Older glue residues can be softened with nitro thinner or acetone and then rubbed off; however, stains may form on the parquet


Seal bottle after use


Protect from frost


Laid floor covering can be walked on after approx. 8 hours and subjected to final load level after 48 hours (at 23°C)


The open time and the setting time are heavily dependent on the working conditions, e.g. the temperatures and wood moisture of the parquet, application quantities and tensions in the material
Select RAL-colour code
!! NOTE: On-screen visualisation of the colour differs from real colour shade!!