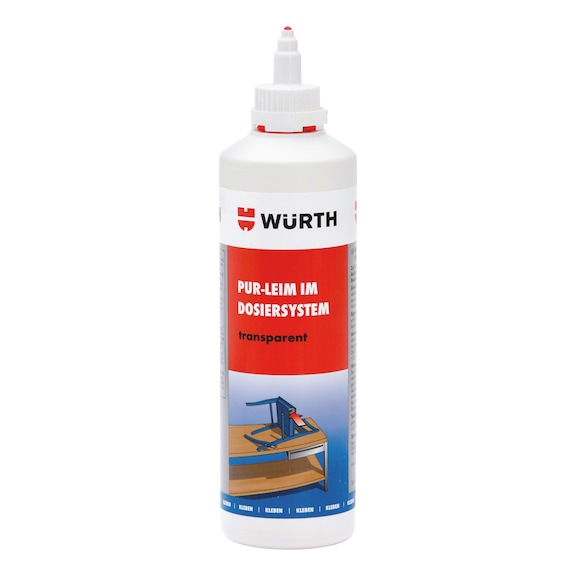 For detailed information, other images and documents, please select individual articles from the following table.
Exclusively for trade customers
Register now and access more than 125,000 products
Call customer service: +49 7940 15-2400
Exclusively for trade customers
Register now and access more than 125,000 products
Call customer service: +49 7940 15-2400
Prices for customers after login
Highly resistant to water
Tested D4 quality in accordance with DIN/EN 204. Tested by the Institut für Fenstertechnik e.V., (German Institute for Window Technology) in Rosenheim
High thermal stability
For high-strength outdoor bonded connections
Special dispensing cap
The twist-off cap enables clean working without the nozzle getting clogged and allows the cap to be closed quickly
For universal use
For structural production of moisture-resistant windows, door frame and cassette gluing, stairs, hand rails etc. Also highly suitable for higher wood moistures
Foaming
Foaming allows the adhesive to easily bridge gaps
No risk of discolouration
Discolouration is also prevented on woods with a high proportion of tannic acid
Notice
Preliminary tests should be carried out to ascertain that the appropriate adhesion properties are achieved for the relevant design and wood type.
For ash, we recommend a substrate pre-treatment with Adhesion Plus plastic/stone/wood (art. no. 089010062).
Oily woods should be glued immediately after processing in order to minimise the risk of formation of a separating layer.
Refer to the overview table for technical data
The usage instructions are recommendations based on the tests we have conducted and are based on our experience; carry out your own tests before each application. Due to the large number of applications and storage and processing conditions, we do not assume any liability for a specific application result. Insofar as our free customer service provides technical information or acts as an advisory service, no responsibility is assumed by this service except where the advice or information given falls within the scope of our specified, contractually agreed service or the advisor was acting deliberately. We guarantee consistent quality of our products. We reserve the right to make technical changes and further develop products.
Application area
Indoor use with frequent exposure to draining water or condensation water as well as many types of wood in outdoor use with adequate surface protection
For gluing door frames and cartridges


For gluing windows, frame joints and laminated profiles and those connected in length by finger joints


Steps and balustrades, handrails


Frame bonding


Balcony railings, garden furniture and fences


Assembly, surface, floorboards and blocks


Joints on MDF boards


Stationary edge coating with veneers and solid wood strips


Soft, hard, exotic woods and chipboard


Mineral construction panels, ceramic materials, concretes and rigid foams


Many types of plastic, metals and metal sheets on absorbent substrates
Instructions
Application instructions:
Apply a thin layer of PUR glue on one side directly from the bottle or use the spatula to apply it to the less porous side


The surfaces to be bonded must be clean and free from grease. Remove any release agents from plastic surfaces


The gluing gap must not exceed 0.2 mm as the wider the gap, the lower the bonding strength


Remove fresh glue splashes with PU cleaner. Older glue residues can only be removed mechanically. Close the bottle after use. Protect from frost


The adhesive hardens with moisture. However, the wood moisture should not exceed 14%. At least one of the substrates to be adhered should be absorbent. If neither substrate contains the moisture necessary to produce a reaction, the adhesive surface in front of the joint should be moistened slightly. Grind down smooth substrates


Pressing force must be applied during the connection process, as this ensures sufficient contact of the adhesive surface. The higher the pressing force, the higher the subsequent load capacity. You will be able to work with the glued part after 2 to 3 hours. Final adhesion takes up to 7 days


The processing time and the setting time are heavily dependent on the working conditions, e.g. the temperatures, moisture and absorption levels of the materials, application quantities and tensions in the material
Select RAL-colour code
!! NOTE: On-screen visualisation of the colour differs from real colour shade!!