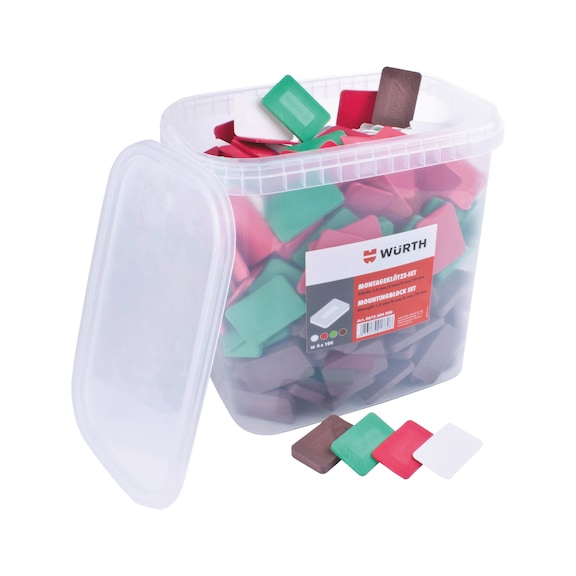 The images are examples. For detailed information, other images and documents, please select individual articles from the following table.
Handy assortment of universal assembly aids for aligning, levelling or use as shims. Particularly suitable for ensuring correct load transfer when installing windows
Show availability in Würth trade store
If you have any questions, please call our service hotline at +49 7940 15-2400.
You are not yet a Würth customer or do not yet have access data to the Online Shop? Then
register now
in just a few steps. After a successful check of the entered data, you will have immediate access to the stock inquiry as well as all prices and can immediately order.
Exclusively for trade customers
Register now and access more than 125,000 products
Call customer service: +49 7940 15-2400
Very versatile
To ensure correct load transfer when installing windows and doors or for levelling and aligning interior fittings and drywall elements. Würth mounting blocks are a universal aid for spacing and levelling work.
Adjustable height
The 60 x 40 mm mounting blocks are available in thicknesses of 1.5 mm, 3 mm, 5 mm and 10 mm in sets of 100
Heavy-duty solid cast blocks made from polypropylene (PP)
Notice
Compressive strength calculations: 60 x 40 mm = 2400 mm² x 70 N/mm² = 168,000 N/mm² = 16,480 kg
The load-bearing strength of the substrate in question is critical for calculating the compressive strength, as well as the load-bearing strength of the block
Select RAL-colour code
!! NOTE: On-screen visualisation of the colour differs from real colour shade!!