Segmented Grinding Disc For Stainless Steel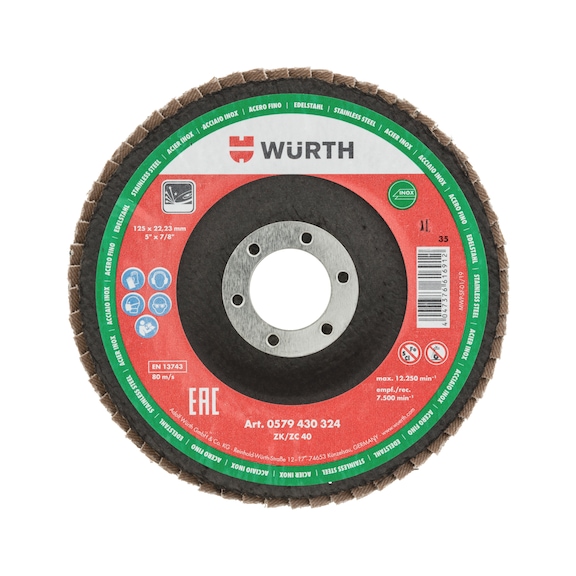 The images are examples. For detailed information, other images and documents, please select individual articles from the following table.
Segmented Grinding Disc For Stainless Steel
Zirconia alumina, especially suitable for machining stainless steel
Drill hole: 22.23 mm
Material of the carrier disc: Glass fabric
Material of abrasive medium: Zirconium conrundum
Exclusively for trade customers
Register now and access more than 125,000 products
Call customer service: +49 7940 15-2400


Variants
Packaging unit
The packaging unit defines the number of articles in one packaging. In the catalog segment you can choose from different packaging units if a pop-up menu is displayed.
Just leave the field empty if you don't know the packaging unit when directly entering the article number in the shopping basket or when importing with Easy-/VarioScan. The packaging unit will be determined automatically.
Structure of our article number
The article number is made up of the following: VVVVAAABBB
VVVV = 4 digits for prefix number (please note that the first digit is currently always 0)
AAA = 3 digits for dimension part 1
BBB = 3 digits for dimension part 2
Example article number structures:
Example 1: Screw with dimensions of 4x10 mm:
VVVVAAABBB
00574 10 (2 spaces between the 4 and the 10)
Example 2: Screw with dimensions of 10x20 mm:
VVVVAAABBB
005710 20 (1 space between the 10 and the 20)
Example 3: Flat washer with an internal diameter of 6 mm:
VVVVAAABBB
04076
Information on price display
Price per packaging unit (PU):
The displayed price is always in line with the displayed packaging, if the PU is 250 the price for 250 units, if the PU is 300 the price for 300 units.
Price with price key representation (PSL):
The price always applies to a quantity ruled through the price key:
Price for 1 unit
Price for 100 units
Price for 1000 units
Quantity
The quantity shows the number of pieces or units of measure contained in the order or delivery for the respective article.
In contrast to sales packaging and secondary packaging, the disposal costs for chemical-technical products are shown separately. The breakdown of the individual costs can be found on the relevant products and also in the shopping cart, as well as in our
General Terms and Conditions (GTC)
.
Art.-no.
Plus disposal costs -,-- per selected packing unit
Cust. Mat. No.
Exclusively for trade customers
Register now and access more than 125,000 products
Call customer service: +49 7940 15-2400
Prices for customers after login
For freehand grinding with electric or pneumatic angle grinders
Circumferential speed max. 80 m/s
Free of iron, chlorine and sulphur (≤ 0.1%)
Robust polyester-cotton mixed fabric
Glass fabric backing disc
Abrasive cloth (zirconia alumina)
Long service life


High rate of material removal


Self-sharpening
Notice
Use appropriate protective clothing, e.g. safety glasses, gloves, work shoes and dust mask when working. Always use an appropriate protective hood when performing grinding work. Using damaged discs increases the risk of accidents. Work only with undamaged discs. The permissible circumferential speed may not be exceeded.
Clear and correct disc storage
Dry, at +20°C room temperature
Complies with the most demanding safety requirements of European Standard EN 13743 and the OSA (Organization for Safety of Grinding Tools )
Application area
Used to grind edges and surfaces, dressing and smoothing, deburring and for weld seam processing.


Stainless steel sheets, non-alloyed special steels, alloyed and high-alloy steels, rust- and acid-proof steels, chrome-nickel steels
Select RAL-colour code
!! NOTE: On-screen visualisation of the colour differs from real colour shade!!