I-Block 90® ceiling panel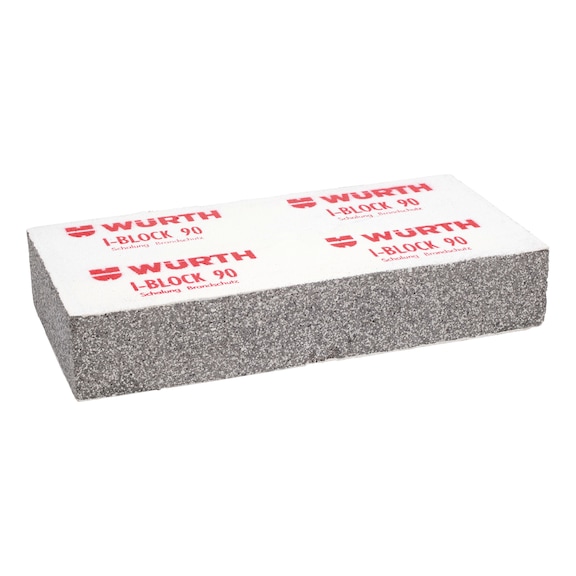 For detailed information, other images and documents, please select individual articles from the following table.
I-Block 90® ceiling panel
Partition system for sealing electrical wires and flammable/non-flammable pipes in the installation duct, as well as ventilation in accordance with DIN 18017-3
Show availability in Würth trade store
If you have any questions, please call our service hotline at +49 7940 15-2400.
You are not yet a Würth customer or do not yet have access data to the Online Shop? Then
register now
in just a few steps. After a successful check of the entered data, you will have immediate access to the stock inquiry as well as all prices and can immediately order.
Exclusively for trade customers
Register now and access more than 125,000 products
Call customer service: +49 7940 15-2400

Exclusively for trade customers
Register now and access more than 125,000 products
Call customer service: +49 7940 15-2400
Prices for customers after login
Meets the requirements for increased acoustic insulation in accordance with DIN 4109 Sheet 2


Formwork aid and temporary non-slip ceiling closure during the construction period
Notice
I-Block 90 step safety has been tested by Graz University of Technology in an undrilled state and embedded in concrete


Damage, saw cuts, drill holes and cut edges must be touched up with ablative coating on both sides.
General construction test certificate P-MPA-E-06-025


Step safety tested by the Graz University of Technology. Load capacity - statement inspection number 78.765/10


Noise insulation test DIN EN ISO 10140 test certificate 91313 - 05
Application area
For use in system [W2]
Installation duct I-Block 90
The I-Block 90 installation duct can be used with duct wall structures in solid or lightweight construction.


The duct wall structures must independently meet the static requirements for use as installation ducts/walls. These requirements are described in DIN 1053 for solid construction and in DIN 4103 for lightweight construction.


An 18 mm plasterboard panel is required as the minimum thickness for lightweight construction cladding.


Tested block size: L x W 1.0 m x 0.55 m
Instructions
Cut I-Block 90 to the size of the planned ceiling cut-out.


Touch up damage and cut edges with ablative coating.


Secure I-Block 90 on the roof formwork (e.g. using binding wire on the reinforcement)


Remove formwork after concrete casting.
Select RAL-colour code
!! NOTE: On-screen visualisation of the colour differs from real colour shade!!