Synthetic corundum flap wheels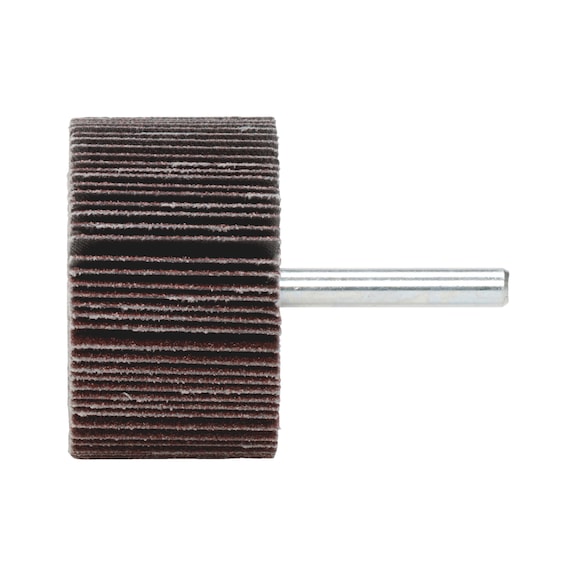 For detailed information, other images and documents, please select individual articles from the following table.
Synthetic corundum flap wheels
Ideal for grinding in confined spaces e.g. in mould-making, container and apparatus engineering and pipeline construction.
Material of abrasive medium: Aluminium oxide
Material to be processed: C-steel, Grey cast iron, Forged steel, Steels bands, Cr-Ni and other stainless steels, Non-ferrous metal, Deep-drawn steel, Cast metal, Malleable cast iron, Injection-moulded zinc, Stainless steel
Exclusively for trade customers
Register now and access more than 125,000 products
Call customer service: +49 7940 15-2400

Variants
Packaging unit
The packaging unit defines the number of articles in one packaging. In the catalog segment you can choose from different packaging units if a pop-up menu is displayed.
Just leave the field empty if you don't know the packaging unit when directly entering the article number in the shopping basket or when importing with Easy-/VarioScan. The packaging unit will be determined automatically.
Structure of our article number
The article number is made up of the following: VVVVAAABBB
VVVV = 4 digits for prefix number (please note that the first digit is currently always 0)
AAA = 3 digits for dimension part 1
BBB = 3 digits for dimension part 2
Example article number structures:
Example 1: Screw with dimensions of 4x10 mm:
VVVVAAABBB
00574 10 (2 spaces between the 4 and the 10)
Example 2: Screw with dimensions of 10x20 mm:
VVVVAAABBB
005710 20 (1 space between the 10 and the 20)
Example 3: Flat washer with an internal diameter of 6 mm:
VVVVAAABBB
04076
Information on price display
Price per packaging unit (PU):
The displayed price is always in line with the displayed packaging, if the PU is 250 the price for 250 units, if the PU is 300 the price for 300 units.
Price with price key representation (PSL):
The price always applies to a quantity ruled through the price key:
Price for 1 unit
Price for 100 units
Price for 1000 units
Quantity
The quantity shows the number of pieces or units of measure contained in the order or delivery for the respective article.
In contrast to sales packaging and secondary packaging, the disposal costs for chemical-technical products are shown separately. The breakdown of the individual costs can be found on the relevant products and also in the shopping cart, as well as in our
General Terms and Conditions (GTC)
.
Art.-no.
Plus disposal costs -,-- per selected packing unit
Cust. Mat. No.
Exclusively for trade customers
Register now and access more than 125,000 products
Call customer service: +49 7940 15-2400
Prices for customers after login
Gentle working with high material removal
Supple, soft abrasive flaps
Ideal in confined spaces
Easily resettable synthetic resin core facilitates optimal operation in confined spaces without damaging the work piece.
Notice
Flap wheels achieve optimal performance at a recommended cutting speed of 15–20 m/s. An ideal compromise between the removal rate, surface quality and temperature load of the work piece and the service life of the flap wheel. The maximum permissible rotation speed (min-1) must never be exceeded for safety reasons. Flexible shafts, electric and pneumatic straight grinders can be used as tool drives.
Service life and heat development:
The low contact pressure and circumferential speed increase the service life of the flap wheel and minimise the temperate load on the work piece.
Material removal:
Increasing the removal rate should be achieved by switching to a rougher grain rather than increasing the contact pressure.
Surface quality:
High cutting speeds with low contact pressure produce fine roughness. Increasing the contact pressure with low cutting speed increases the depth of roughness. The softer the material to be machined, the greater the depth of roughness (when using the same grain size).
Safety is only guaranteed if the clamping length is 15 mm and the specified maximum rotation speed for open shaft lengths is not exceeded. Follow general working and safety precautions.
Application area
Especially suitable for machining alloyed and unalloyed steel, malleable iron, structural steel, tool steel, soft non-ferrous metals, plastics and wood.


Precision grinding work on radii in tool and mould making, machining of small and hard-to-reach surfaces in instrument and container construction, machining of fittings produced from non-ferrous and light metals, grinding of turbine blades in motor construction and repairs, grinding of edges and surfaces, dressing and smoothing, deburring and for machining weld seams
Select RAL-colour code
!! NOTE: On-screen visualisation of the colour differs from real colour shade!!