Diamond cutting disc Construction site Longlife & Speed RS Plus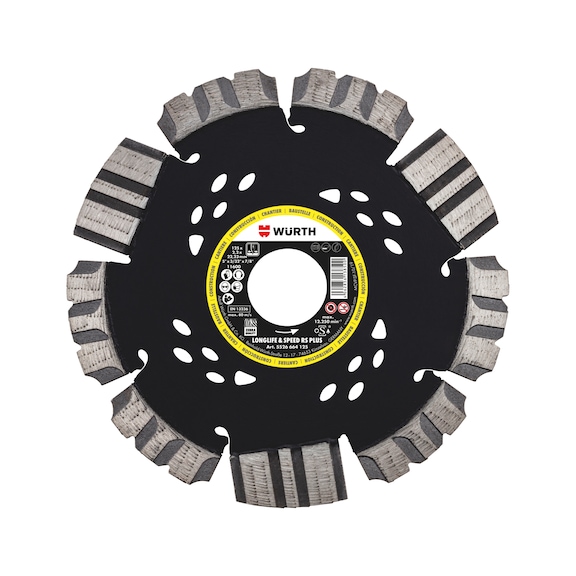 The images are examples. For detailed information, other images and documents, please select individual articles from the following table.
Diamond cutting disc Construction site Longlife & Speed RS Plus
Premium diamond cutting disc specially developed for all construction trades with enormous versatility, extremely high service life and cut quality, maximum cutting speed. The perfect disc for all angle grinders and wall slitting cutters
Show availability in Würth trade store
If you have any questions, please call our service hotline at +49 7940 15-2400.
You are not yet a Würth customer or do not yet have access data to the Online Shop? Then
register now
in just a few steps. After a successful check of the entered data, you will have immediate access to the stock inquiry as well as all prices and can immediately order.
Exclusively for trade customers
Register now and access more than 125,000 products
Call customer service: +49 7940 15-2400

Exclusively for trade customers
Register now and access more than 125,000 products
Call customer service: +49 7940 15-2400
Prices for customers after login
Maximum cutting speed as well as extremely clean and precise cutting edges
Special wavy, ribbed segment shape and innovative optimised segment technology for a definite increase in cutting speed and cut quality


Differently sized layers are matched perfectly to one another, diamonds on alternate sides
Long service life
Segments up to 15 mm
Protection against undercuts primarily in very abrasive materials
Specially arranged protective segments on disc diameters 115 to 150 mm
Optimised dust removal and cooling
The innovative, specially designed fan segments feed in cooling air and transport the dust out of the cut. Special cooling openings with an arrow arrangement serve as additional cooling and as a captive running direction indicator.
Smoother running and more pleasant working conditions
The special, innovative slot geometry reduces uncontrolled vibrations and unpleasant noises while running
Notice
Diamond cutting discs become dull at excessively high speeds and wear too rapidly at insufficient circumferential speeds


If the ease of cutting decreases (indicated by heavy sparking), resharpen the disc in abrasive material, e.g. sandstone, with several cuts


Separate larger workpiece cross-sections in several sections (swing cut)


Work without pressure — the weight of the machine is sufficient. Increased pressure causes increased wear.


Diamond cutting discs are designed for straight cutting. Cutting curves deforms the blade and results in core cracks and segment tear-offs — risk of injury!


Although the tool is safe, always wear safety goggles and clothing while working


Observe the information on the label (max. speed), restrictions of use and safety instructions


The direction arrow on the disc must match the machine's direction of rotation


Must not be used for lateral grinding


Use the appropriate protective hood


Clamping must be performed only by a trained specialist (do not use force, use clean clamping flanges of the same size, perform a test run)


If grinding tools are clamped or used incorrectly or are damaged, they represent a danger and may cause serious injury
Application area
Diameter of 115 to 150 mm, optimised especially for use in all wall slitting cutters


For dry and wet cutting


Particularly suitable for old concrete, concrete, exposed aggregate concrete, reinforced concrete (up to 25 mm), interlocking paving stones, concrete tiles/pan tiles, concrete pipes, soft/hard sand-lime brick, soft/hard granite, marble, soft/hard clinker bricks, hard clay brick, hard Poroton, screed
Select RAL-colour code
!! NOTE: On-screen visualisation of the colour differs from real colour shade!!