1-component cold wood glue D4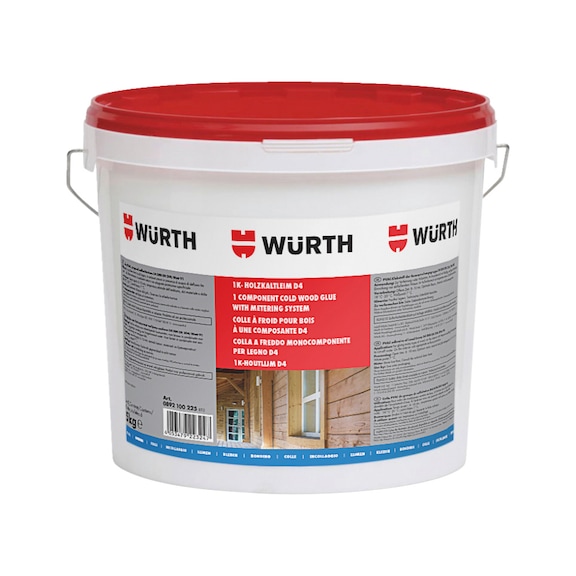 For detailed information, other images and documents, please select individual articles from the following table.
1-component cold wood glue D4
For gluing all types of wood. Fulfils stress group D4 in accordance with DIN EN 204 and the requirements of DIN EN14257 (WATT91).
Exclusively for trade customers
Register now and access more than 125,000 products
Call customer service: +49 7940 15-2400

Exclusively for trade customers
Register now and access more than 125,000 products
Call customer service: +49 7940 15-2400
Prices for customers after login
High level of heat and water resistance
Tested D4 quality in accordance with DIN EN 204


Meets the requirements of DIN EN 14257 (WATT91).
Easy to use
No mixing with hardener required. No pot life limitation to be observed.
Transparent hardening
No visible adhesive joints. Hardened glued joints are viscoplastic.
Notice
Due to the different composition of substances contained in wood, in individual cases, unpredictable discolouration can occur, e.g. in beech and cherry. In addition, iron in conjunction with the tannic acid in wood may cause colour changes in oak. The processing time and the setting time are heavily influenced by the working conditions (e.g. temperature). For outdoor applications, the gluing part must be protected against weather and provided with adequate surface protection (permanent protection against moisture ingress). Care must be taken to ensure that the glue is not exposed to direct sunlight outdoors due to its thermoplastic properties. Non-thermoplastic adhesives and PUR glue in the dosing system (0892100180) are suitable for applications with direct exposure to sunlight. Softening of the glue and shrinkage of the wood can lead to joint openings. The viscosity of single-component D4 glues increases during the storage period. However, the processing parameters do not change as a result. Stirring without adding water makes it free-flowing again. Do not add water to the glue! Remove glue residue escaping at the joint, as this may cause red staining due to reacting with oxygen.
The usage instructions are recommendations based on the tests we have conducted and our experience; carry out your own tests before each application. Due to the large number of applications and storage and processing conditions, we do not assume any liability for a specific application result. Insofar as our free customer service provides technical information or acts as an advisory service, no responsibility is assumed by this service except where the advice or information given falls within the scope of our specified, contractually agreed service or the advisor was acting deliberately. We guarantee consistent quality of our products. We reserve the right to make technical changes and further develop products.
Application area
For structural assembly, surface, board-joint and block gluing of soft wood, hard wood and exotic woods. For applications with increased water resistance requirements; indoors with frequent and long-lasting effects of draining water. Outdoors with adequate surface protection. Examples include bathroom furniture, gluing of interior doors and interior staircases, corner window joints, laboratory equipment. Likewise for gluing laminated profiles and profiles joined lengthwise via dovetail joints.
Instructions
Glue is applied to one side thinly and evenly with an application tool, a glue roller, toothed spatula, brush etc. For more information, please refer to the technical data sheet.
Select RAL-colour code
!! NOTE: On-screen visualisation of the colour differs from real colour shade!!