High-strength bearing retainer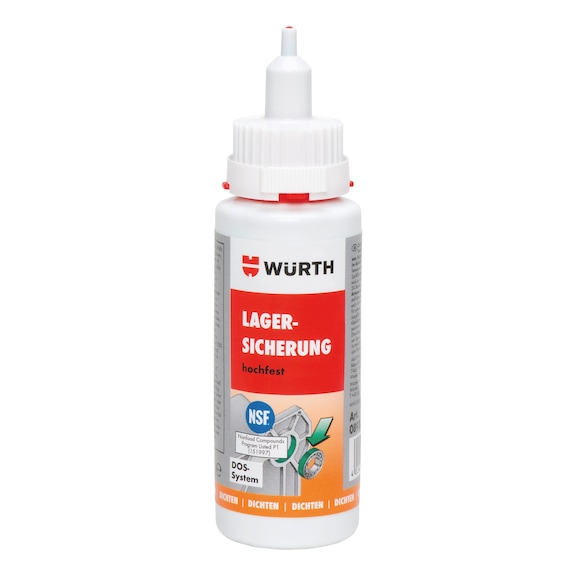 For detailed information, other images and documents, please select individual articles from the following table.
High-strength bearing retainer
For high-strength connection of cylindrical parts subject to high loads
Exclusively for trade customers
Register now and access more than 125,000 products
Call customer service: +49 7940 15-2400

Exclusively for trade customers
Register now and access more than 125,000 products
Call customer service: +49 7940 15-2400
Prices for customers after login
Reliable hardening at low temperatures around 0°C
A reliable "helper" in winter, too
High degree of gap bridging
Completely fills extensive surface roughnesses
Gap filling capacity of 0.15 mm
Even extremely large deviations are cost effective to correct.
Prevents frictional corrosion
The bearings will not seize up.
Resistant to a large number of bases, gases, solvents, oils and fuels
Silicone-free, solvent-free and oil-free
DOS system:
Practical one-handed operation thanks to the clever turn lock
One hand always remains free.
Continuously adjustable dispensing system
Dispensing can be adjusted to suit the application, and to keep consumption and costs to a minimum.
No residue material in dispensing neck
Costs optimised thanks to emptying with virtually no remaining product
Notice
The following plastics can be affected in the event of prolonged exposure: ABS, celluloid, polystyrene, polycarbonate (Macrolon), PMMA (Plexiglas), polysulfone, SAN (lurane, Tyril), Vinidur, vulcanised fibre, and painted surfaces. We always recommend that you conduct your own tests.
NSF-registered, Class S5, bearing retaining compound


NSF-tested in accordance with NSF/ANSI 61 for use in service water and drinking water up to +82°C
The usage instructions are recommendations based on the tests we have conducted and on our experience; carry out your own tests before each application. Due to the large number of applications and storage and processing conditions, we do not assume any liability for a specific application result. If our free customer service provides technical information or acts as an advisory service, no responsibility is assumed by this service except where the advice or information given falls within the scope of our specified, contractually agreed service or the advisor was acting deliberately. We guarantee the consistent quality of our products. We reserve the right to make technical changes and further develop products.
Please observe the technical data sheet!
Application area
For high-strength securing of cylindrical joining parts such as bushings and sleeves as supplied, ball bearings, oil-impregnated sinter bronze, gears, bolts, shaft and hub connections exposed to high loads.
The bearing retaining compound is designed for use in the automotive and commercial vehicle industry, in metalworking and tool manufacturing, shipbuilding, mechanical engineering and engine construction, electrical and electronics construction, food, beverage, pharmaceutical and paper industries, etc.
Instructions
This liquid plastic cures when in contact with metal in the absence of oxygen. The contact surfaces must be dry, dust-free and grease-free. Moisten the adhesive surfaces sufficiently and put them together immediately.
For more information, please refer to the technical data sheet.
Select RAL-colour code
!! NOTE: On-screen visualisation of the colour differs from real colour shade!!