Single-component expanding foam PURLOGIC® Premium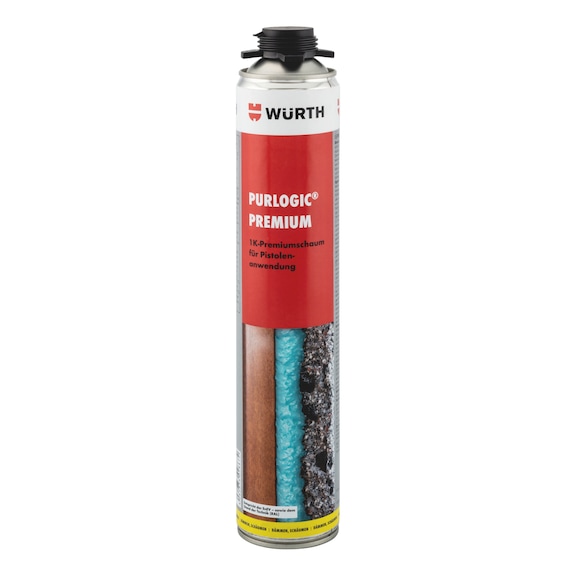 For detailed information, other images and documents, please select individual articles from the following table.
Single-component expanding foam PURLOGIC® Premium
Is a ready-to-use, single-component, self-expanding rigid polyurethane foam intended for use with an appropriate foam gun.
Exclusively for trade customers
Register now and access more than 125,000 products
Call customer service: +49 7940 15-2400

Exclusively for trade customers
Register now and access more than 125,000 products
Call customer service: +49 7940 15-2400
Prices for customers after login
Low flammability between solid and mineral building materials and corresponds to building material class B1 according to DIN 4102, Part 1 when used in this application


Outstanding dimensional stability, i.e. no volume shrinkage and only minimal expansion once hardened.


Excellent adhesion to almost all conventional building materials


Can be plastered over, painted over or covered after curing


Resistant to ageing, non-rotting, mould and decay-resistant


Resistant to a large number of solvents, paints, chemicals, oil and petrol


Better sound and heat insulation properties than mineral wool, cork and fibreglass


Fine-celled and uniform foam structure


Silicone and solvent-free
Notice
Hardened polyurethane foam should be protected against UV exposure by painting over or sealing (e.g. silicone, polyurethane, acrylic or hybrid polymer) or by covering.


Porous and absorbent surfaces such as gypsum and aerated concrete should be primed.


The single-component PURlogic Premium gun foam can be used in the foam guns PURlogic Xpress (art. no. 08911524) and PURlogic COMBIpress (art. no. 08911526). Other guns are not compatible.


12 months storage from the date of production in unopened packaging in a cool (+5°C and +25°C) and dry storage area. The foam cans must be stored upright to prevent the spray valves from becoming clogged. Use the opened can within a short period.
EMICODE EC1plus: Very low emissions: The EMICODE classification system distinguishes the environmental and health compatibility of construction products. The lowest-emission products bear the EC1plus mark.
The usage instructions are recommendations based on the tests we have conducted and on our experience; carry out your own tests before each application. Due to the large number of applications and storage and processing conditions, we do not assume any liability for a specific application result. Insofar as our free customer service provides technical information or acts as an advisory service, no responsibility is assumed by this service except where the advice or information given falls within the scope of our specified, contractually agreed service or the advisor was acting deliberately. We guarantee the consistent quality of our products. We reserve the right to make technical changes and further develop products.
Application area
Single-component gun foam Purlogic® Premium is a low flammability B1 foam with the highest yield. Ideal for high-quality and safe insulation, filling and insulation of window connections, window sill connections, wall connections and cavities, such as between insulation boards, roof extensions, roller shutter boxes and in equipment manufacturing and metal construction. For insulating window sills, window frames as well as in refrigerated trucks and walk-in refrigeration construction.
Instructions
Protect the surfaces adjacent to the working area against contamination before starting work. Ensure that elements which can become deformed such as window sills and door frames are sufficiently secure. Shake can vigorously 30 times before use. Screw the can all the way into the gun support - do not screw too far or tilt. Foam continues to expand after application. Immediately remove splashes of foam with PURlogic Clean, art. no. 0892160. Thoroughly clean the gun and valve after use. Always leave the open can screwed onto the gun.
Select RAL-colour code
!! NOTE: On-screen visualisation of the colour differs from real colour shade!!